CHI Valley View Clinic named "Best New Development"
CHI Valley View Clinic named "Best New Development"
Wednesday, December 12, 2018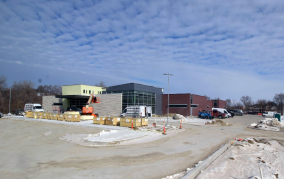 The CHI Health Valley View Clinic in Council Bluffs received a 2018 HREI Insights Award on Dec. 6. The award, part of Healthcare Real Estate Insights™ (HREI) magazine's sixth annual national awards program, was presented during the RealShare Healthcare Conference in Scottsdale, Ariz.
Todd Varney of NexCore says the Council Bluffs project will serve as a prototype for future CHI Health projects nationwide.
The 38,000-square-foot CHI Health Clinic Valley View won the 2018 HREI Insights Award in the category of "Best New Development, Medical Office Buildings (MOBs) and Other Outpatient Facilities, 25,000 to 49,999 square feet" despite stiff competition from four other outstanding finalists. The awards, which honor excellence in healthcare real estate development and executive leadership, are selected by HREI's Editorial Advisory Board, which consist of a panel of recognized HRE leaders from across the nation.
"We are extremely proud that for the fifth time in six years a NexCore Group development has been chosen as an HREI Insights Awards Winner," Todd Varney, chief development officer, says. "We strive to deliver high-quality healthcare facilities satisfying the needs of the most demanding patient and clients, so it is particularly gratifying to be recognized for that work by the industry's leading magazine and its highly respected board."
Darland broke ground on this project in February 2018 and completion is on track for April 2019. The groundbreaking of this clinic kicked off CHI's initiative to develop a highly-adaptable, scalable prototype to replace aging, undersized facilities across the United States.