Baxter to open new Chrysler-Dodge-Ram-Jeep Dealership
Baxter to open new Chrysler-Dodge-Ram-Jeep Dealership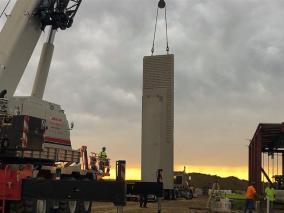 Darland is under construction on the new Chrysler-Dodge-Ram-Jeep dealership near Interstate 80 and Highway 370 in Papillion. The building features more than 59,000 total square feet; including a showroom, service center, customer lounge with kids play area, single lane car wash, two storage mezzanines and more than 10 acres of exterior paving. Finishes include metal wall panels, precast and curtain wall.

The dealership will be one of the first in the area to include a hail protection system. The 135,000-square-foot hail netting is designed to protect inventory from hail, heat and UV rays.

Construction began in April and the project is slated for completion in Spring 2020.