CHI Clinic opens in Council Bluffs area slated for a major revitalization
CHI Clinic opens in Council Bluffs area slated for a major revitalization
Wednesday, January 15, 2020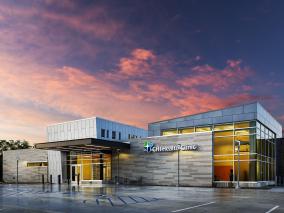 Darland completed the CHI Health Valley View Clinic in Council Bluffs, Iowa. The 38,844-square-foot clinic features 56 exam rooms, focusing on primary care with specialties including radiology, ultrasound, pharmacy, behavioral health and physical therapy. The new clinic is part of the organization's ongoing mission to provide affordable, accessible, high-quality care for all. "Keep people healthy and out of hospitals. That's our ultimate goal," said CHI Health CEO Cliff Robertson.
With the area poised for a major redevelopment and CHI Health's immediate need for expansion in the Council Bluffs market—maintaining the schedule was imperative. Darland delivered the building on time and under budget despite widespread, historic flooding in the area during construction.
Adjacent to the former Mall of the Bluffs, just off Interstate-80 and Council Bluff's busy Madison Avenue, the new clinic is one of the first steps in a major revitalization effort. Menards has announced plans to raze the blighted mall for a new store with additional out-lots and leased space nearby.
Darland completed this project in collaboration with CHI Health and Denver-based NexCore Group, a national healthcare real estate developer. During construction, the project received recognition by Healthcare Real Estate Insights (HREI) magazine for bringing an innovative clinic to a growing market that would satisfy the community's immediate needs, but also provide a prototype for future facilities nationwide.
CHI Health, NexCore Group and Darland are under construction on a nearly-identical clinic in Millard, scheduled to open spring 2020.