Darland Completes Construction of Love's Travel Stop
Darland Completes Construction of Love's Travel Stop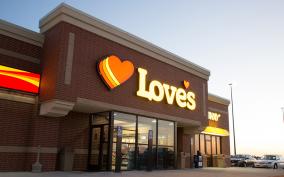 Darland Construction Co. completed the Love's Travel Stop in Valley, Nebraska, located along U.S. Highway 275 at theintersection of US Highway 64.

Construction on the extensive site improvements began in April 2015. Site work required a large temporary power source, dewatering, widening the highway, a box culvert extension and raising the grade.

This Love's Travel Stop features truck and motorist parking, numerous fuel pumps under large canopies, and CAT scales. Inside are a full-service convenience store, five showers, and a Subway restaurant.

The Valley Love's Travel Stop opened in January 2016. Darland is under construction with two additional Love's Travel Stops in Belleville, Kansas, and Syracuse, Nebraska.

Darland Construction Co. was established 62 years ago and has grown into a respected full-service construction firm providing services on both a regional and national scale. Darland is headquartered in Omaha, Nebraska, with a second office in Kansas City. Darland has completed projects in 17 states.