Darland underway on MHC Kenworth
Darland underway on MHC Kenworth
Thursday, January 31, 2019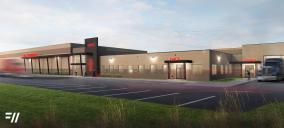 MHC Kenworth has teamed up with Darland Construction to build its new location near highway 370 and Interstate 80 in Omaha. Construction began in November, with substantial completion expected this fall.
MHC Kenworth is a full service dealership network with more than 100 locations across 16 states.
The more than 107,000-square-foot building features precast walls, polished concrete floors, 43 service bays with overhead doors, geothermal heat and LED lighting throughout. Amenities include a paint booth, wash bay, bridge cranes, driver's lounge, a compressed natural gas service area and nearly 9.5 acres of paving to accommodate dealership inventory and customer parking.